Infobird IP Cloud Contact Center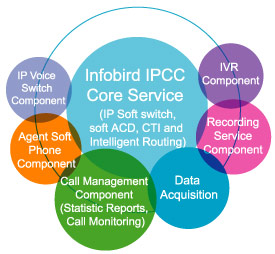 Adopting advanced cloud computing technology and communication technology, Infobird can quickly establish a private Cloud Computing IP Contact Center with a relatively low cost for customer.
IP architecture used by Infobird IP Cloud Contact Center allows flexible deployment and easy expansion. It is applicable to build Contact Center, Hotline, Telemarketing System, etc. Individual construction requirement of various industry customers can be easily achieved.
Applicable to:
Infobird IP Cloud Contact Center is especially applicable to those enterprises with following characters:
1. High-tech enterprises with Internet-based applications;
2. New manufacturing and circulation enterprises need to establish comprehensive customer service system for more customer value;
3. Service-oriented and sales-oriented enterprises with a huge marketing system and wide-distributed branches want to have centralized management;
4. BPO base of government and large-scale outsourcing services enterprises;
5. SMEs want to build call center with small initial scale and scattered deployment.
Product Advantage:
1)Deployment Advantage
Infobird IP Cloud Call Center has developed its own innovative technologies to achieve "large-scale centralized deployment at one single point", "distributed call center", "centralized and decentralized mixed deployment" and other industry-leading deployment methods. You can have all the traditional call center functions and applications as long as you have access to Internet or LAN. This has solved the obstacle of high-cost private line or network which traditional "switch call center" and "board call center" both need.
2)Access Advantage
Infobird provides not only traditional PSTN (PRI, SS7 signaling) access but also the access of Internet voice calls (WebCall), text call (WebChat), Sip and other access methods. And it can put PSTN Call and WebCall in a same. Users can take full advantage of the recourses of Internet and traditional telephone network (PSTN).
3)Application Advantage
With embedded contact management functions, Infobird IP Cloud Call Center allows call management, customer maintenance, call traffic record, statistical analysis and other functions.
With a variety of business records templates, system can basically meet the common business recording application requirements, like sales opportunity tracking, customer follow up, order records, complaint handling, etc.
Users can also use "form generation tool" embedded in the system to quickly build your own simple business record form. It is no longer needed to purchase or develop third-party business systems.
Infobird IP Cloud Call Center provides a common integration interfaces and components to enable its easy integration with user's existing business systems (such as: ERP, CRM, etc.).
4)Capacity Advantage
Infobird IP Cloud Call Center products break through the limitation in communication theory, core system, system architecture and other aspects of traditional "switch call center" and "board call center". Through infinite stacked product components (basic products components, control service components, recording storage components, and stacked Gateway), Infobird IP Cloud Contact Center allows various application from mini call center to super call center
5)Manage Advantage
Infobird IP Cloud Call Center can realize effective unified centralized management according to customer's demand no matter its staff and equipment are distributed in decentralized or centralized.
6)Technology Advantage
Following the world's leading SOA specification, Infobird IP Cloud Call Center creates "multi-agent coordination technology" and "service distribution and load balancing technology" (both are Infobird's patents). Theses technologies allows complex services to be deployed in different equipment or components, which greatly reduces the burden requirement on the hardware requirements, thus to enhance system stability and reliability.
7)Cost Advantage
Infobird IP Cloud Call Center effectively helps customer reduce its investment in hardware device, private line or private network, business system development, etc. (its TCO is 30% lower than traditional call center). Infobird solution helps customer reduce costs in construction, operation and maintenance.
Infobird IP Cloud Call Center can be quickly built and deployed (its construction time is 60% shorter than traditional call center). Infobird solutions help customer recover their investments as soon as possible, to effectively improve customer's return on investment.