Infobird Profile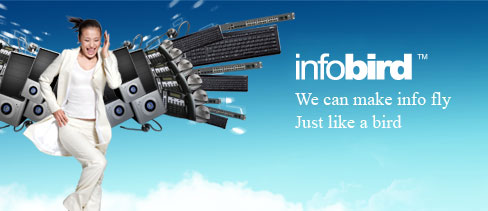 Founded in 2001, Beijing Infobird Co., Ltd. is a professional supplier of "Cloud Computing" Customer Management System and Service. Over the years, insisting on technological innovation and market exploration, Infobird provides enterprises with construction services of business communication and customer management platform with great efforts and improvements.
In the "customer-centric" philosophy, adapting "Cloud Computing" architecture and SaaS mode, Infobird provides unique customized "Cloud Computing" customer management platform solutions for many enterprises and organizations. In 2008, Call-center-based Cloud Management Platform "Qitongbao" came on to the market. It opens a new application era of enterprise-class Internet product.
At present, Infobird has thousands of company customers distributed in financial, tourism, telecommunications, government, logistics, education and training, e-commerce and other industries. There are typical clients: Alibaba, eLong, PICC, Qinghai-Tibet rail passenger service center, President Inc., Holiland, etc.
In 2009, Infobird was awarded as "Red Herring Top 100 Global Company" for its SaaS product--Qitongbao.
In the future, infobird will work for becoming a leader of China's SaaS enterprises and build information support platform for Chin's modern service industry to help Chinese enterprises take the "cloud computing" train with high-speed.